General information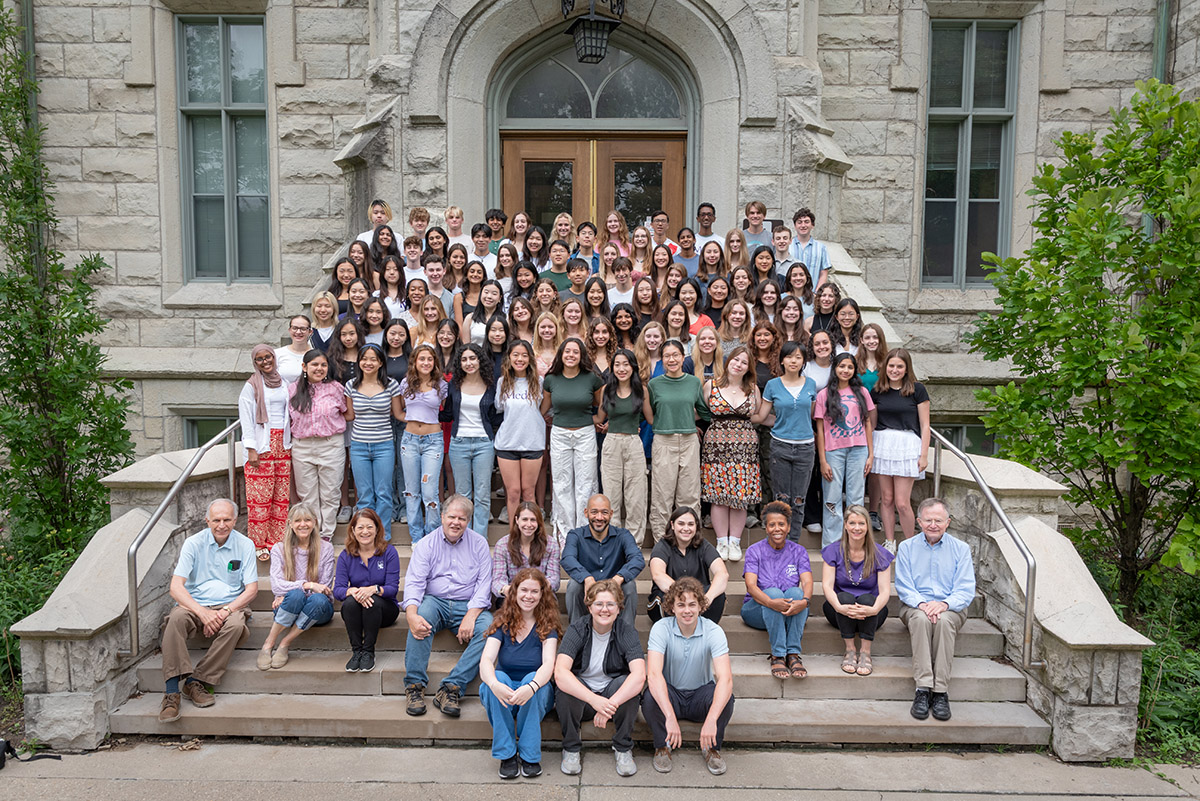 What is the Medill-Northwestern Journalism Institute?
The Institute, also known as "Medill cherubs," is a summer journalism program for up to 84 rising high school seniors conducted on the Northwestern University campus in Evanston, Illinois. It is sponsored by Northwestern's Medill School of Journalism, Media, Integrated Marketing Communications. Students learn from accomplished journalists and university professors while gaining practical experience in the field. By the end of the program, students create a body of work, build connections and meet aspiring journalists from around the world.
In the summer of 2023, students came from 21 states and the District of Columbia as well as from Canada, China, Colombia, Hong Kong, the United Kingdom, Qatar and South Korea.
What is a "cherub"?
It is a nickname, meaning a celestial being (angel). Students are traditionally called "cherubs."
Who are the teachers?
The program has been directed by Medill Prof. Roger Boye since 1985. He was associate director before that. The instructional team is made up of professional journalists, educators and Medill graduates, some of whom are cherub alumni. Students are assigned a specific instructor who will be their mentor throughout the summer. The instructors critique assignments and meet with students individually for conferences. Dorm life is supervised by community and academic associates (CAAs), who are Medill undergraduates. The CAAs also help lead some classes.
Applications
How do I apply?
The 2024 application and brochure are under the "apply" link on the homepage. Students need to submit an essay, transcript, test scores (if available), a letter of recommendation and samples of their writing in addition to the application form and the $50 application fee.
What are the important dates?
Applications and financial aid requests for the 2024 program are due by 4 p.m. on Monday, March 11, 2024. Students are notified by April 1. The four-week 2024 program will run from June 23 to July 19.
How selective is the program?
In picking students, the program looks for both a strong academic record and a strong background in journalism; decisions are based on merit, not on the date the application is received (assuming it arrives by the deadline). When the program runs on campus, no more than 84 students are enrolled. In 2023, the program received nearly 250 applications for the 84 openings.
If I enroll does that guarantee I will be admitted next year as a Northwestern undergraduate?
No. The admission process for the undergraduate program is totally separate. But on average, about 25 percent of the students return to Northwestern University the following year. In 2023-24, nearly 120 former Medill cherubs are enrolled as Northwestern undergraduates (first year through senior year). They comprised about 1 1/2 percent of the university's entire undergraduate student body.
How much does the program cost?
$5,000 for the four weeks, which includes tuition, room and board, field trips and group events. Transportation to and from campus and personal expenses are not included.
Is financial aid available?
Definitely. The program has $100,000 in financial aid and scholarships available for 2024. Financial aid is need-based, but there is no set income level necessary to qualify. The program has six named scholarships. Students applying for financial aid are automatically considered for a named scholarship, most of which are given on the basis of need. Here are the named scholarships:
Joan Beck Journalism Scholarship
Norma Kinsel-Linda Foley Cherub Scholarship
Mary Lou Song Cherub Alumni Scholarship
Diane Granat Yalowitz Memorial Fund Scholarship
Jeffrey Zucker Medill Cherub Scholarship
Scholarship by an anonymous donor
Can I apply if I'm not a U.S. citizen?
The program welcomes journalism students from around the world. The 2023 program had 10 students from abroad.
Can I apply if I'm not involved in newspaper?
Any student with experience in journalism and journalistic writing should consider applying. Cherubs have backgrounds in digital journalism, newspaper, television, audio and/or yearbook.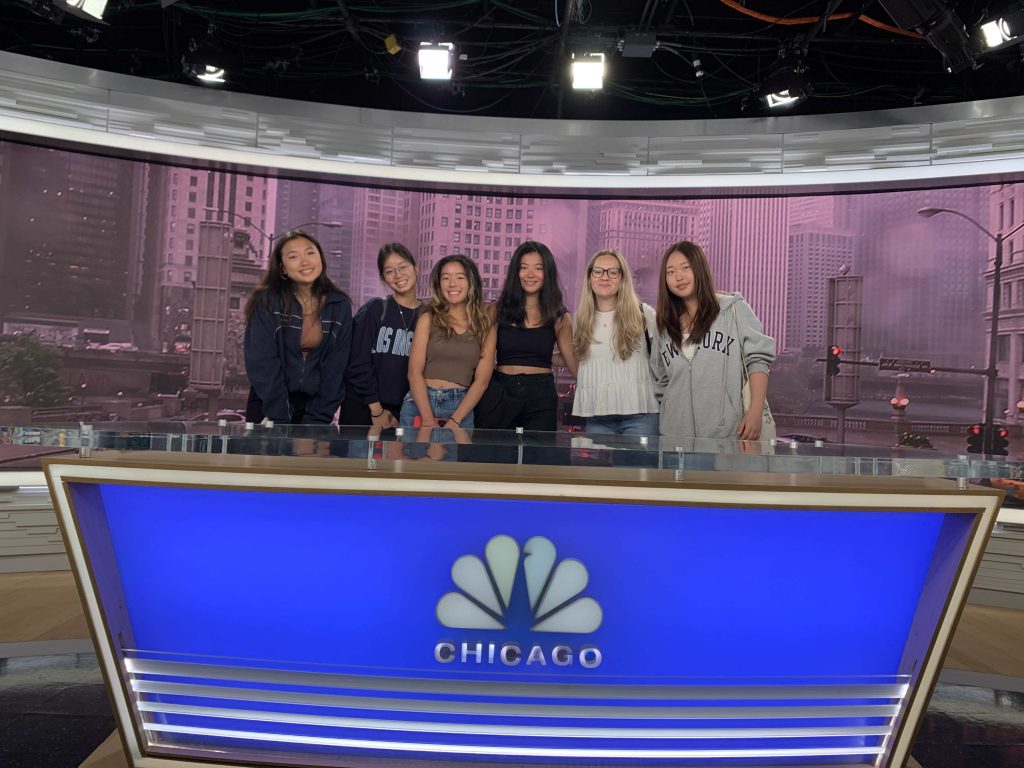 Academics
What skills can I expect to gain?
Students will focus on reporting, writing and editing for print, broadcast and online media. In addition, students will study video, audio and photojournalism as well as digital storytelling. The training they will receive in writing clearly, concisely and accurately will serve them for years to come, no matter what their college major or chosen career. Students do not earn college credit, but they will receive extensive and thorough evaluation of their work.
What kinds of articles will I write?
Students will write a wide range of articles from news stories to opinion pieces to features. The length of assignments varies.
What types of classes are offered?
Over the four weeks, students will take at least 50 classes ranging from lectures by Northwestern faculty and journalists from around the country to labs, workshops, discussion groups and film showings, as well as field trips to Chicago. The ratio of students to faculty who teach full time in the program is 10:1.
Daily life
What is the daily schedule?
Class usually begin at 9 a.m. and run through the evening. Throughout the day, students attend lectures, labs and workshops on a wide variety of journalistic subjects. There also are some classes on the weekends.
What are the housing and meal accommodations?
Students live at East Fairchild, Northwestern's Communications Residential College. Meals at a dining hall are included in tuition. Vegan and gluten-free options are available.
Is there free time?
As long as students manage their assignments, they have free time to explore Evanston or relax on campus. On weekdays, classes are held in the mornings, afternoons and evenings. Students meet with their assigned instructors on Saturday mornings and there is often a social activity on Saturday evenings. The program offers classes on Sunday afternoons and evenings.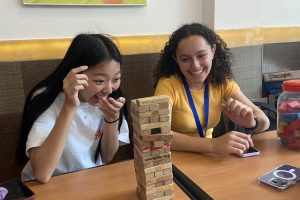 How much money should I bring?
Spending money is at the discretion of students and their families. While tuition covers field trips and all meals in a university dining hall, most students spend money to eat out on occasion as well as to buy such things as clothing, snacks and toiletries.
Can I leave campus?
Students can walk to downtown Evanston to shop and go to restaurants. There also are organized field trips to Chicago.
What should I pack?
The weather generally will be warm, but be prepared for cool days as well. Bring T-shirts and pairs of shorts and a few pairs of long pants. Classes go on, rain or shine, so a raincoat and/or umbrella are essential. Sunscreen is also useful. The program usually sponsors a party called the "Cherub Prom," so clothing for that would be appropriate. A laptop computer is essential; the program will have a few laptops available for emergencies. In addition, bring the usual school supplies as well as a flash drive, audio recorder and, if you have them, headphones.
Can I practice sports during the program?
The Henry Crown Sports Pavilion, an athletic facility on campus, is available for a fee. Students can also run or exercise on their own around campus. Basketball and tennis courts are at various locations on campus and there is a beautiful jogging path along Lake Michigan, just a few hundred feet from the residence hall.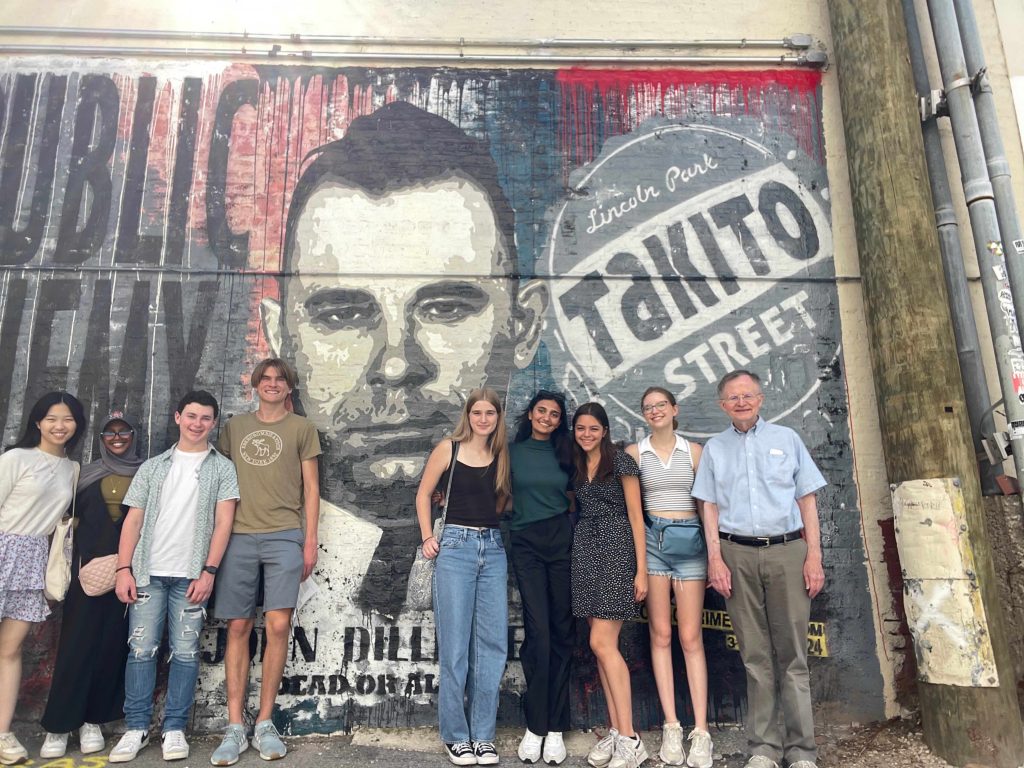 Will I be able to attend religious services?
There are many religious centers on campus for multiple denominations. Upon arrival, students may request contact information for these centers. Time is available on the weekends so that students may attend services.
Other information
Who made this website?
This website was created by the students during the last week of the program.
Any other questions?
Send an email to the program director, Prof. Roger Boye, at r-boye@northwestern.edu or to program assistant Marjorie Geraci at marjorie.geraci@northwestern.edu.